Custom built forever home

Craftsman/Northwest Modern interior


3,271 square feet
Sisters, OR
Custom built forever home

Craftsman/Northwest Modern interior

3 bedrooms / 3.5 bathrooms

3,271 square feet
Sister, OR
Value the goals and budgets. Give respect. Be proactive. Be energetic and smart. Focus on the process. This is what clients are looking for from us, and I'm proud to say it's what Lifestyle Homes provides.
–Mike Arnett, Owner Lifestyle Homes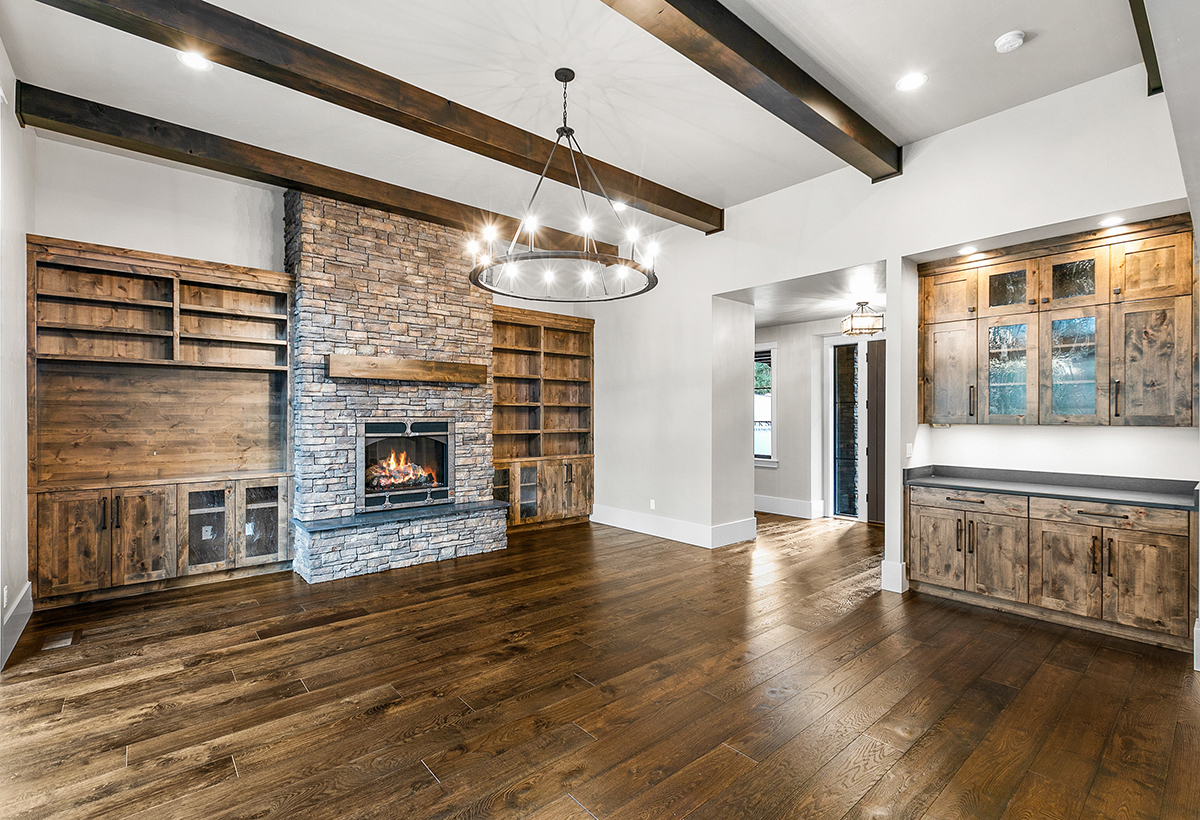 An inviting space to entertain.
In a natural, pine wooded setting on the edge of Aspen Lakes golf course, a set of grandparents enjoy the retirement they hoped for — living in the house they envisioned. Their Forever Home.
With help from Patrick Schmitt Designer, Milwaukie Lumber, and Paulson's Floor Coverings, we built a 3,271 square foot, 3 bedroom, 3.5 bathroom house with plenty of room to entertain. The main floor features an open floor plan with attractive interior finishes: wide plank oak hardwood floors, custom cabinets, slab granite countertops, and marble backsplashes. Dark wood stain finishes contrast white accents and medium wood tones throughout the space. The chef's kitchen boasts a large refrigerator wall, oversized island, floor-to-ceiling cabinets, and a separate pantry space for a dishwasher and additional sink.

Outside offers both covered and uncovered living with a large stone gas fireplace and overhead patio heaters. Step outside the primary bathroom for private access to a hot tub. A deep three-car garage holds a pull-down ladder leading to more storage above.

Building Aspen Lakes was not met without challenges. A lengthy HOA plan approval process pushed the start date to fall, which meant building through winter snow. In addition, the lumber market began to rise in the summer, leading to higher prices than budgeted. We also encountered rocky ground which affected our excavation cuts and the need to bring in more dirt for backfill.
Despite initial setbacks, the final result is a beautiful home, exactly as the clients envisioned. Aspen Lakes is a great collaboration between the owners, our vendors, and Lifestyle Homes.
A place to gather together.